What is the deal with point size in digital type.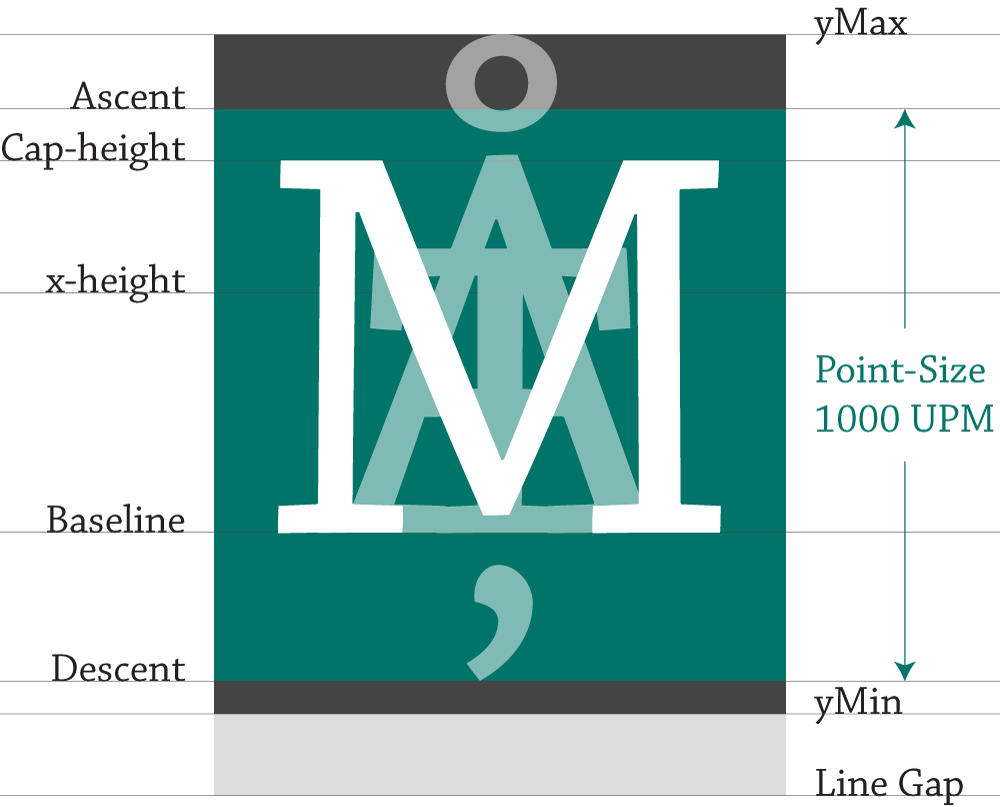 Lets look at Chaparral Pro, the OpenType font used on this site. Chaparral has 1000 UPM. The point-size is the distance between the ascender and descender lines, the 1000 UPM grid scaled. The glyphs within this space get resized proportionally when we set a point size. In this example, we are looking at Chaparral's capital M, tallest ascender Å, and longest descender Ț. Above the UPM is the yMax, Chaparral's max ascender height and below, is the yMin, Chaparral's max descender value. Both the yMin and and yMax values are used to determine the rendered font size and line spacing values. The line gap is used to determine the default line spacing value and overlaps the yMin. In Chaparral, the line gap is 200 and with a UPM of 1000, a font size of 1em has a default line-height of 1.2em.
Lets see how they stack up. The line gap of the top line aligns with the ascender line of the following line of text, this space is 200 UPM. In other words the distance between baselines is 1200 UPM. If we were to decrease or increase the line-height, we are changing this space. Both the yMin of line one and the yMax of line two fit within the line gap with a little room to spare. All of this ensures that ascenders and descenders in lines of type never collide.